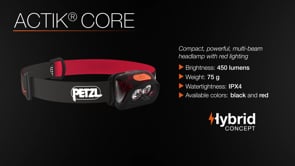 SALE
PETZL ACTIK® CORE 450
Compact, very powerful and rechargeable headlamp featuring REACTIVE LIGHTING® technology. 900 lumens.
With its 900-lumen brightness and total weight of only 100 g, SWIFT® RL is the most powerful of the Petzl compact headlamps. Its two-part construction provides excellent stability in dynamic and intense activities such as mountaineering, trail running and skiing. read more
or 6 weekly interest-free payments from $23.50 with
what's this?
DESCRIPTION

MORE INFORMATION
Rechargeable, compact multi-beam headlamp with red lighting, designed for outdoor activities. 450 lumens
The rechargeable ACTIK CORE headlamp offers 450 lumens of power, which, along with its multi-beam design, makes it ideal for dynamic outdoor activities like mountaineering, running, hiking and backpacking. Red lighting preserves night vision and prevents members of a group from blinding each other. The reflective headband provides night visibility. ACTIK CORE comes with the CORE rechargeable battery and is also compatible with three AAA/LR03 batteries (not included), thanks to the HYBRID CONCEPT design. Mounting accessories allow the lamp to be attached to any kind of helmet, or to a bicycle.
Further information 
(also see video in images)
Lightweight, compact and bright: 450 lumens at 75 g
Two beam patterns (flood or mixed) and several white brightness levels meet the need for high-performance lighting in dynamic outdoor activities: proximity or distance vision and rapid movement
red lighting preserves night vision and prevents members of a group from blinding each other
reflective headband for night visibility
Rechargeable and easy to use:
CORE battery charges via micro USB port
HYBRID CONCEPT design: ACTIK CORE comes with the CORE rechargeable battery and also works with three standard batteries
single button for quick and easy selection of brightness or light color
detachable, washable headband
LOCK function to avoid accidentally turning it on during transit or storage
Compatible with mounting accessories that allow the lamp to be attached to any kind of helmet, or to a bicycle
Specifications
Brightness: 450 lumens (ANSI/PLATO FL 1)
Weight: 75 g
Beam pattern: flood or mixed
Energy: 1250 mAh CORE rechargeable battery (included)
Charging time: 3 h
Battery compatibility: alkaline, lithium or Ni-MH rechargeable
Certification(s): CE
Watertightness: IPX4 (weather-resistant)
Lighting performance as defined by the ANSI/PLATO FL 1 protocol
Lighting color
Lighting levels
Brightness
Distance
Burn time
Reserve
white
MAX BURN TIME
6 lm
8 m
130 h
–
STANDARD
100 lm
45 m
8 h
2 h
MAX POWER
450 lm
90 m
2 h
3 h
red
continuous
2 lm
5 m
60 h
–
strobe
visible at 700 m for 400 h
References
References       E099GA00
Colour: black
Guarantee       
Lamp: 5 years;
CORE rechargeable battery: 2 years or 300 charging cycles